Eagle's Bookstore
Welcome to the Eagle's Bookstore Page. Abundant Living Family Church has its own bookstore located on the South side of our campus. Come by and take advantage of our special sales and meet our friendly and knowledgeable staff. We offer a variety of bibles, Christian books, home décor, jewelry and other great products. Don't delay and stop by today!
Hours of Operation:
Wednesday- 6PM-9:30PM
Thursday- 5:30PM-8:30PM (only when ASOM is in session)
Saturday 5PM-8:30PM
Sunday 8AM-1PM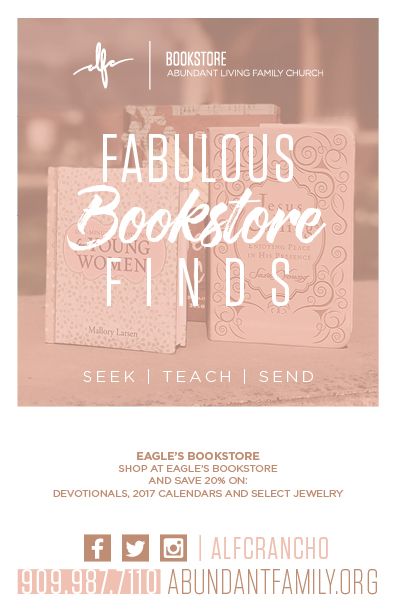 Pastor Diego's 40 Day's Devotionals Special Offer:
Purchase 4 different 40 Days Devotionals for only $20 (or $6.00 each).
Titles include:
40 Days of Healing
40 Days of Prayer
40 Days of Living As a Conqueror
40 Days of Knowing God
40 Days of the Word of God
40 Days of Trusting God
40 Days of Loving God
40 Days of Praising God
Also, purchase a current message CD or DVD at Eagle's Bookstore and get a previous message for free!
CD's are only $6.00
DVD's are only $12.00
We are always looking for volunteers who are interested in working the church bookstore. If you are interested and you are a member of ALFC, please visit the Ministry of Volunteers (MOV) page on this website to fill out an application.